Development strategy
Mobility
- Provide Galaxy
platform for developers and 3rd parties
Infinity
- Provide Galaxy platform for developers and 3rd parties
NOVATION
- Provide Galaxy platform for developers and 3rd parties
Difference
- Provide Galaxy platform for developers and 3rd parties
Win-Win Offshore
Click here for details
We, Rikai, are a new type of offshore development company. It is an offshore development company headquartered in Japan created by foreigners (Betnam), and the main feature is that Japanese customers and foreign (Vietnamese) employees can have a win-win relationship. .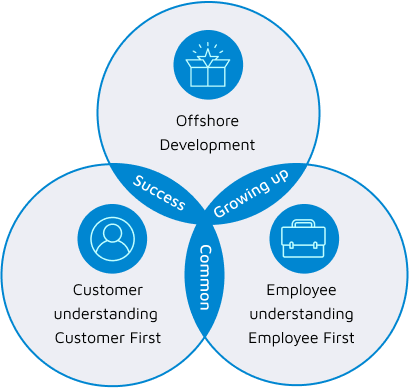 Triple Quality
Click here for details
Three types of quality of Rikai. Quality of Human, Quality of Development, Quality of Service. With this triple quality, we will respond widely to the needs of our customers and continue to grow together with our customers as long-term partners.
Our Business
Click here for details
Case study
Click here for details
Abundant track record
Until now, RIKAI has been working on many customer issues from system development to environmental migration, maintenance and operation. We will work together with our customers to create new value through a development team tailored to the needs of our customers.
Business System
Mobile app development
Internet service site development
Application
VB Migration
PHP Migration
Database Migration
Others
MAINTENANCE AND OPERATION
Help desk
Server monitoring
Application management
Career
Click here for details
Recruitment information
We are promoting "people-centered business" through heartfelt business that is close to our customers. And I want to gather more colleagues and expand the "human organization". We will deliver the voices of employees who shape this "people-centered" and "human organization".