In the digitization of Japanese companies
In order to achieve business improvement,
Beyond cross-cultural communication in Vietnam
To be a long-term and trusted partner,
From Japanese companies and Vietnamese engineers
It will always be needed.
Based on the experience of being in charge of offshore development in Vietnam for many years and transferring many Japanese development centers to Vietnam, the root reason for the various problems arising in the project between Viet Nam Japan is the lack of mutual understanding between the Japanese side and Vietnam. I noticed it. Due to miscommunication, you can't work efficiently, and there is pressure on both sides, especially at the start-up stage.
When I came to Japan in 2017, I realized again that many excellent Vietnamese engineers were active under Japanese companies. They have been studying and working in Japan for a long time, and they understand Japanese culture and Japanese business manners. We also have advanced technology (especially programming). On the other hand, most Vietnamese engineers work as outsourcing human resources, so the reality is that their career path in Japanese companies is not guaranteed. I deeply reflected on such a situation as a middle manager of an outsourcing company, and I came to want to be a reliable bridge between Japanese companies and Vietnamese engineers.
Therefore, we gathered young engineers who deeply understood the language and culture of both Japan and Vietnam, and set up a new team in 2018. Beyond barriers such as geography and culture between the two countries, we would like to develop high-efficiency software by making the most of the strengths of both countries, and create new value together with our customers.
That's nothing but "Rikai Technology". "R Rikai" is a "understanding" in Japanese. It will grow more and more as a global software development company that understands Japanese companies and Vietnamese engineers, and will continue to be indispensable for both Japanese companies and Vietnamese engineers.
Mission
We provide our customer with "valuable technology"
To that end, we understand "true customer needs"
Make full use of abundant know-how an the lastest technology doing so, the value of solving customer issues. We provide a certain technology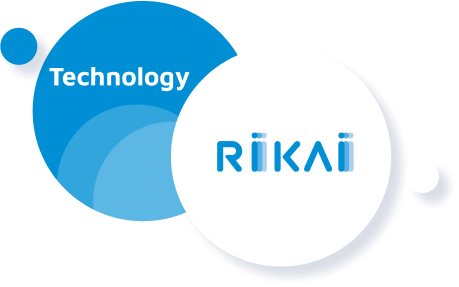 Employees who are familiar with Japan language an bussiness customs are smooth
For sofware development through comunication
Understand "true customer needs"
Action
Action
To trust
We always trust ourselves and our
organization
Take pride
We take pride inour work and the value
We create
Be honest
We are honest with ourselves
To challenge
We challenge and overcome challenges without fear of failure
Continue to learn
We will continue to learn
Direction
Promote business centered on "people" and "technology"
Rekai Technology, which develops technology outsourcing services. Software development is the main business content, but we would like to promote "business centered on people and technology" through software development. "Business centered on people and technology" is a heartfelt business that is close to customers. It is none other than our basic stance of understanding "true customer needs" and providing "valued technology" to our customers.
We also want to expand the "Organization of Human". In order to realize our vision, we need to bring together and organize more people. The development stage of "human organization" is divided into three stages.
Stage 1: "Organization Founding Stage" ・ Aim to reach 500 employees in 5 years. Customers are small and medium-sized enterprises, start-up
stage 2: "Organic Growth Stage" ・ Aim to reach 2,000 employees in the five years after the end of the first stage. Customers are major companies Stage
3: "Expansion Stage" ・ Expand the market to the EU, US and South Korea.
Promote "business centered on people and technology" to the first stage for new markets with new goals . And the expansion of "human organization". Rikai Technology will continue to grow steadily, speedily and sustainably.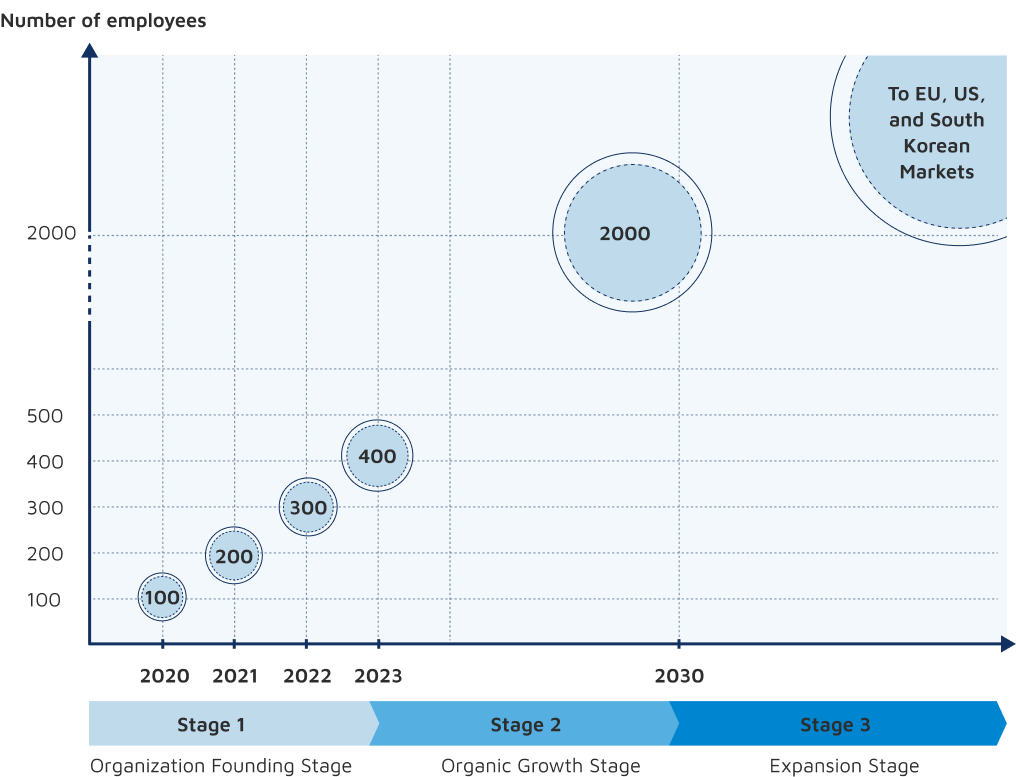 Company Profile
Click here for details